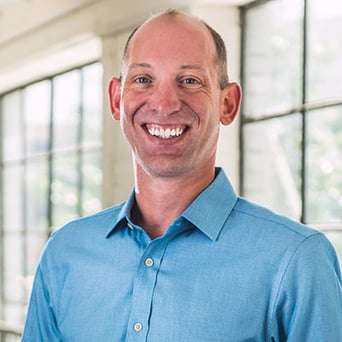 As we work with the leading marketing tech providers supporting the nonprofit industry, we are seeking out the movers and shakers. We caught up recently with Stu Trevelyan the CEO of EveryAction. Stu is an industry veteran, having pioneered so many of the techniques and software that many of us have taken for granted in the last decade. Enjoy this interview with Stu.
Could you introduce yourself and tell us about your background?
I've spent the last two decades helping causes and campaigns succeed through innovative use of technology. In 2007 I co-founded and ran the trailblazing firm CTSG (the Carol / Trevelyan Strategy Group), which pioneered many of the best practices and tools for online fundraising and advocacy, helping hundreds of nonprofits such as Amnesty International, the Natural Resources Defense Council, and Planned Parenthood Federation of America. Before CTSG, I worked in White House Legislative Affairs for Senator Harris Wofford and for several nonprofits, including Greenpeace and PIRG.
How did you get involved working with nonprofits?
My parents were involved in the civil rights movement. I was born while my dad was working at Spellman College. My parents taught me to try to make the world a better place and initially got interested in canvassing for Greenpeace, then PIRG and others. I realized that one of the real levers for making social change was government and politics. That led me through working for Ed Markey (now a Senator from Massachussettes), the DCCC, and a small-state governor named Bill Clinton.
I worked on the 92' Clinton campaign for James Carville and George Stephanopolous. I eventually saw there that tech would have a huge impact on how NPOs and campaigns operate. A key part of what we did was to use technology to learn about what reporters wrote about and what the other candidates were saying. We started with mobile fax ... and then naturally progressed from there.
Eventually I started CTSG by telling people "There is this thing called the Internet. You should start collecting emails." We worked with lots od liberal groups and pioneered strategies in the 90's that other organizations have grown and adapted over time. I eventually sold CTSG in 2004 and worked for the acquiring company for a while. I eventually jumped out on my own and began running NGP VAN, which is a tool to support digital, field and fundraising activities for political groups. Finally, in 2014 we launched EveryAction, which specifically addresses the needs of sophisticated nonprofits.
How did you decide to launch EveryAction?
Having provided hundreds of nonprofits with eCRM software at CTSG, I had a lot of familiarity with the market, and our current nonprofit customers kept telling us that the market needed better options. So, we stepped up.
How did your previous experience prepare you for your current position?
As someone running a mission-oriented organization, I'm able to relate to our nonprofit clients and their motivations and needs. My understanding of their needs is driven by my real experience working in their shoes, striving to achieve the same kinds of victories.
Could you tell us a bit more about what EveryAction does and how you interact with nonprofits?
Built and supported by nonprofit experts, our tools allow nonprofits of all sizes to optimize their interactions with supporters and prospects, leading to the best outcomes.
How do you differentiate yourself from your competitors and what kind of nonprofits do you like to work with?
We provide a best of breed product with unique features, like one-click webforms, that increase conversion rates across our thousands of clients. More broadly, we offer digital, fundraising, and organizing features, all out of one CRM. And we offer our Innovation Platform, with which hundreds of other companies like Attentive.ly, ConnectFirst, and EventBrite have integrated. This allows us to provide not just a 360 degree view, but a 360 degree set of best of breed tools.
We work with a wide variety of nonprofits, and enjoy working with any where we can help them raise more money and support. Probably more notably, as a mission-based organization, we decline to work with organizations that focus on denying a woman's right to choose, LGBT rights, or climate change.
Here are four examples, all driven by our obsession with real data on what gets people to donate to causes they love.
Our "Action Profile" provides cross client identity that pre-fills web forms. For example, Peter is 3.6X more likely to submit a form/donation when it's prepopulated. 47MM folks across the country get this benefit.
We have developed optimized multistep donation forms (which perform on average 39% better than single page forms) so we make that default for all of our clients.
One click donations let people donate with just a single click directly from an email. People who use this feature contribute 4X as often and 3X as much.
Email address correction is critically important. We found that about 5% of email addresses entered on email subscription and donation forms are typed incorrectly. So, we have implemented a series of checks that correct most of those errors and increase downstream engagement rates.
Is there a blog you read religiously?
There are lots of smart folks, but I'm a big fan of Mark Rovner and Alia McKee's Seachange Strategies blog.
What's your favorite music? Book?
Modest Mouse: Lampshades on Fire.
Thomas Pynchon, Crying of Lot 49.
Is there a customer success story you would like to highlight?
So many of our thousands of customers are doing great things that are making the world a better place, and we're honored that we get to empower the work of many household names. But, we're also really excited to help people get new organizations off the ground.
Chris Ford came to EveryAction in 2014 with an idea. As a 20-year Air Force veteran, Chris saw a need for a national collaborative association for the 40,000+ veteran/military serving organizations in the United States. He came to EveryAction to help turn this theoretical concept into a national nonprofit.
EveryAction helped NAVSO build a website for their thousands of member to communicate and collaborate on the latest research, education, and best practices. In addition to their membership portal, EveryAction integrated state of the art online fundraising and communication tools to help NAVSO continue to work with their members to help those who have served.
NAVSO has been able to take advantage of EveryAction's FastAction accounts, which enable one click contributions both from email and on a web page. Over a third of NAVSO's donations were from supporters that have FastAction accounts. Moreover, the average contribution amount from Fast Action users were 23% higher than other users. NAVSO was also able to take advantage of the Action Profile network effect, where the 47 million profiles prefill site visitors that have filled out other EveryAction forms, to increase conversion rates and grow their email list by 22%.
With the help of EveryAction, NAVSO has grown into a national organization that continues to advance the cause of veterans across the country:
"EveryAction offers some of the most advanced tools available for engaging our members, tracking their responsiveness, and keeping current up their needs; all at affordable rates. Without exception, we'd recommend their tools and their amazingly talented and responsive team to tackle the toughest issues facing nonprofits who want a stronger online engagement presence." -Chris Ford, CEO, NAVSO
What are some nonprofits that you admire the most?
Greenpeace, because the staff and supporters take real risks and make real change.
Planned Parenthood, because their staff are brave every day. Cecile Richards is one of the smartest, most capable people in the nonprofit world and a personal hero of mine.
What do you see as far as general industry trends?
One has been the shift to digital and the proliferation of channels; it's important to do a few of those well - like those closely related email and online forms should be tightly integrated. We certainly aren't going to tackle all of those other things, so it becomes critical to give organizations and campaigns choice. So, to respond to this need, we have built an innovation layer to allow people to pick and choose their tech partners. Another major trend I have noticed is the consolidation of vendors.
What is one trend you think people don't see coming?
Relationship data, as networks of supporters blur, the line between staff and volunteers as they leverage their social networks and influence will become more important. We'll be able to see the connections and value among supporters. We can use those connections to identify and to ask those people for more appropriate support.
Do you have a personal quote you'd like to share that is emblematic of your beliefs about the industry, your organization or life?
"How you climb a mountain is more important than reaching the top."
-Yvon Chouinard, Founder of Patagonia.
About Strength in Members
Founded in 2012, Strength in Members is a team of strategists, designers, writers, developers and engineers who provide digital marketing and technology development expertise to organizations who do good in the world. The company helps clients shore up their digital marketing, fundraising, donor engagement, direct mail, social media and technology. The firm client's includeThe Sierra Club, The Human Rights Campaign, Malaria No More, Polaris,HelpMeSee, AARP, Morris Animal Foundation, Children's Cancer Research Fundand the Natural Resources Defense Council.
Want More? Check out more industry expert profiles or our employee profiles!
Are you an industry mover and shaker?
Want to be interviewed? Email William@strengthinmembers.com